Romance author captures splendor of Regency era in new novel
Marianne Malthouse crafts riveting story of young woman searching for redemption, love in Regency England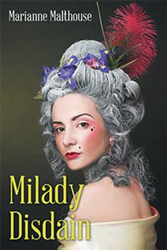 a story of redemption, hope and love set against the backdrop of the most fascinating eras in English history
(PRWEB) March 12, 2015
ADELAIDE, Australia – Marianne Malthouse returns to the historical romance genre with the release of her novel titled "Milady Disdain" (published by Xlibris AU). In her latest book, Malthouse evokes the grit and glamour of Regency England through the story of Patience Kilpatrick, a young woman who tries to chart her destiny against great odds.
Patience's father had abandoned his family to fight and die for Bonnie Prince Charlie at the Battle of Culloden. Because of her disgraced patriarch, Patience grew up without the wealth and status that was hers by right. Resigned to living a life far beneath her station, she becomes the governess to the young son of the tragic and enigmatic Milady Costain.
While enduring life's unexpected twists and turns, Patience transforms from a meek ingénue into a confident and strong woman. Very soon, the young heroine becomes entangled in the lavish landscape of London's aristocracy, and within her reach, is a life and future she never thought was possible.
Peopled by richly drawn characters, "Milady Disdain" is a story of redemption, hope and love set against the backdrop of the most fascinating eras in English history.
"Milady Disdain"
By Marianne Malthouse
Hardcover | 6 x 9in | 160 pages | ISBN 9781503502659
Softcover | 6 x 9in | 160 pages | ISBN 9781503502642
E-Book | 160 pages | ISBN 9781503502635
Available at Amazon and Barnes & Noble
or call Xlibris Publishers Book Ordering Department on 888-795-4274
Available at The Book Depository
Also available on the Amazon Books website -
Please give an online review on the Xlibris site by clicking on the Xlibris link above, then search for Marianne Malthouse and click on the Milady Disdain link. Under the tab Customer Reviews, please add your comments.
Alternatively you can review Milady Disdain on the Amazon website if you have an account, or on Goodreads.